I don't know about you, but sometimes it can be hard to think of something that you really want to put on your wishlist for Christmas. Especially when there's so much choice out there, right? Well, if you're a beauty buff – don't fret, we've got you covered.
While some things that you have on your own wishlist may be a bit pricey, at least the vague idea is there and you'll be able to get at least something off your wishlist.
Here are some of our favourite beauty bits out there at the moment, that'd make the perfect addition to your own wishlist, or if you fancy treating someone to something really special.
Kash Beauty Crystal Nights Collection
Keilidh Cashell only launched her makeup brand recently, and she's back at it again with a brand new collection. Spoiler: it's even more stunning in real life than it is over on their Instagram page!
From lipsticks, glosses, and lashes to a stunning nine shade eyeshadow palette and unique eyeshadow toppers, the Crystal Nights collection is as bold and bright as last year's festive party dress, with the perfect array of products to take you from day to night in a flash. Shop the full collection here.
Vieve Essentials Collection
Another brand new collection from an Instagram Icon, this time, no other than Jamie Genevieve. The Vieve Essentials Collection features an array of stunning lipsticks and liners, beyond glowing highlighters and a ten shade eyeshadow palette.
The shadows are super pigmented and blend like a dream, the liners are beautifully creamy while the lipstick stays put through at least three cups of tea (I've tested this one myself) and the highlighters really speak for themselves. All in beautiful packaging, it definitely deserves a spot on your wishlist this year! Shop it here.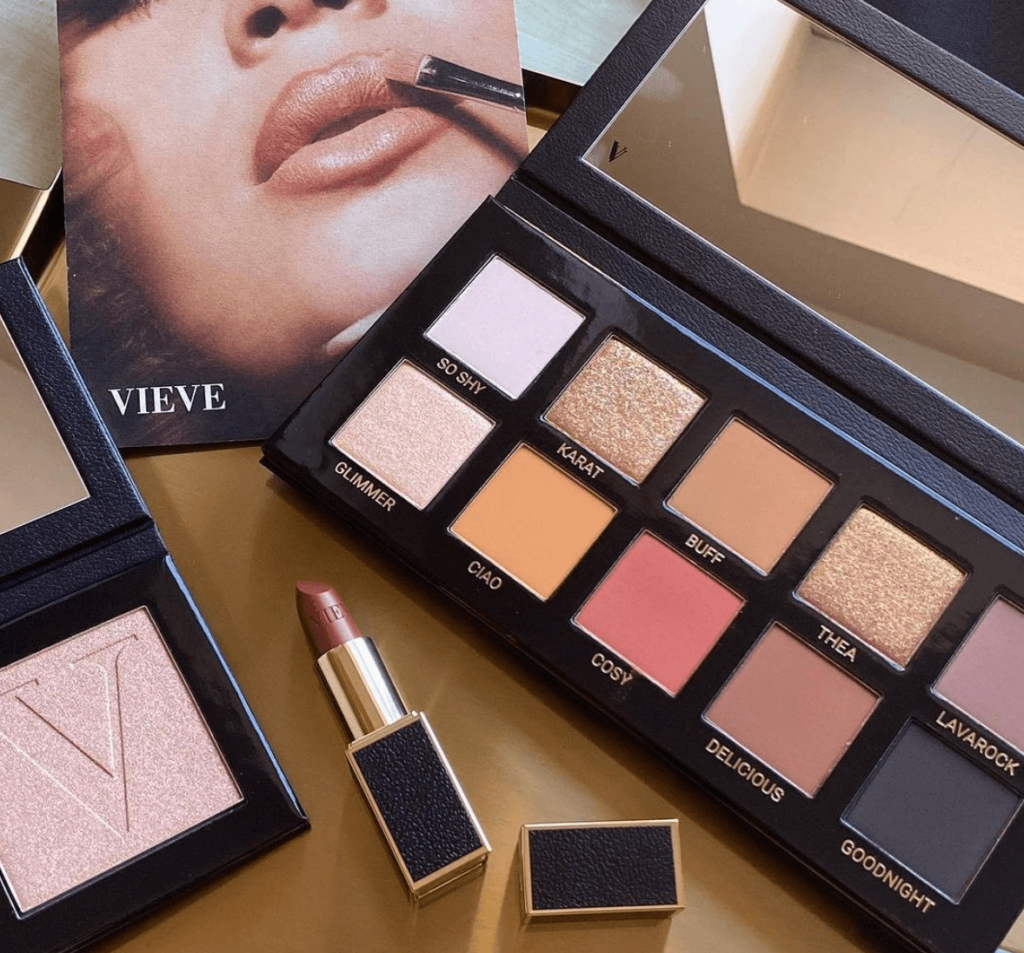 KVD Vegan Beauty Legendary Icons Bestsellers Set 
Some of KVD Beauty's best sellers in one set? Yes, please! Complete with the legendary Tattoo Liner, Go Big or Go Home mascara and the gorgeous Kitten Mini: Everlasting Liquid Lipstick in 'Lolita'.
The Tattoo Liner and Go Big or Go Home mascara are the perfect duo for each and every eye look, while the everlasting lipstick will add a fab pop of colour. All for €24, shop it here.
Sculpted by Aimee Ultimate Face Collection
Obsessed with Sculpted by Aimee products? You're gonna LOVE this.
Including all you need for a full face on the go with the Original Beauty Base 3 in 1 Primer, their iconic Pink Pair Lip Duo and Sculpted by Aimee's Limited Edition Full Face Edit Palette in Bloom for all your makeup needs! The set is so popular that it's sold out online right now, but it's definitely worth a spot on your list if it'll be back in stock. Check it out here.
Dermalogica Cleanse & Glow To Go
Get everything you need for a squeaky clean cleanse with the Dermalogica Cleanse & Glow To Go set. If you haven't tried Dermalogica yet, it's the perfect introduction to the brand, and it'll be ideal for when we get to go on our holidays again.
Complete with the amazing Pre Cleanse, the Special Cleansing Gel and Daily Microfoliant, you'll be squeaky clean and glowing in no time. Check it out here.
Spotlight Oral Care Christmas Gift Set
If there's one year when we really needed some self-care, it's 2020. This gorgeous gift set from Spotlight has everything we need for a bit of self-care and indulgence, as well as some of their best dental products.
Okay, ready for what's inside? We have (deep breath now) Spotlight Teeth whitening strips, Toothpaste for whitening teeth, Mouthwash for whitening teeth, Spotlight Teeth White Pen, Spotlight Oral Care Floss for whitening, Jade Roller and gua sha facial massager, luxury pillowcase and an eye sleep mask, wireless phone charger and a bamboo toothbrush. Shop here.
Skingredients PreProbiotic Cleanse + Skin Good Fats Gift Set 
Struggling with dry skin this winter? You're gonna lap this up. It's no secret that we love Skingredients products here at KISS, and their fabulous gift sets are no different.
The PreProbiotic Cleanse and Skin Good Fats work together to hydrate, nourish and soothe the skin, which makes them the perfect addition to your own beauty wishlist, or a gorge gift if you're going all out this Christmas. Shop it here.
Ole Henriksen Let's Get Luminous™ Brightening Vitamin C Essentials Set
Who doesn't love glowy, luminous skin? If that's the kind of skin you're after, the Ole Glow is what you need. These three products from Ole Henriksen in a gorgeous gift set are all about making the skin look glowy and healthy, while leaving a fab base for under your makeup.
Vitamin C is a super popular skincare ingredient because it basically works wonders. So if you're looking for a fab skincare set, look no further. Shop this gorge set here.
NIMA Brush Christmas Savers
I have been using these brushes for years (literally, years and years), they're some of my absolute favourites and the gift sets available for Christmas 2020 are something else. Choose from the new 'A Taste Of NIMA' collection – a five-piece essential set, and their Christmas bundles which you have five options to choose from.
Starting from €55 with handy little tools in each collection to pair with your brushes. Ideal. Check them all out right here.
Iconic Bronze Shimmer Babes Mousse Set
Last but not least, we have one of the fabulous sets from Iconic Bronze. Their stunning seven-piece set is currently sold out online, but this little trio has everything you need for a gorgeous tan.
You can pick from the mousse or the instant tan, then add a little shimmer with the fab shimmer bronzer. See? Everything you need. Shop it right here.