Room Revamp is a series where we help you make your bedroom your dream space.  From simple tidying hacks to creating more space and adding touches of style to make it somewhere you love to cosy up.
In need of a summery update? We'd got you.
Check out 8 of the best homeware bits on the market right now that will instantly brighten up your bedroom.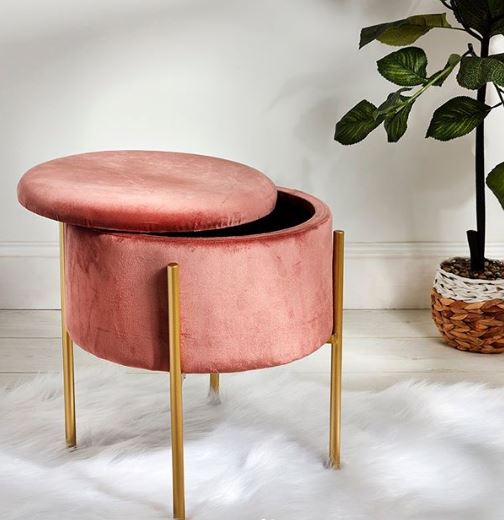 Velvet stool, Penneys
If you can get your hands of this one, grab it! The popular velvet stool is back in Penneys. It's the perfect addition to any room and adds some glamour to a boring corner, not to mention an extra place to sit when friends come over, plus there's storage in it! Ideal.
Stop throwing your dressing gown, jumpers and belts on the 'the chair' or the floor! Brighten up your room while also keeping it tidier with some cute hooks.
Peach bedding, €49, Urban Outfitters
Sometimes the most effective way to brighten up a bedroom is some fresh bedding. Light, bright colours like white are great, but a cute pattern also adds some character. This one from Urban Outfitters is just peachy!
We are print obsessed in KISS HQ, just check out our faves here. But this pressed flower frame is a summery twist on the trend. You can get it in any letter, or if you're feeling really creative, make your own with our tutorial here. 
Trinket Box, €12, Debenhams
Keep your jewellery and other random bits organised with a trinket box by your bed so you don't ever lose an earring or hair slide again!
Cushions, €8, Aldi
Aldi is not just the place your parents do their shopping, but a hidden gem for cute homeware pieces. On August 2, loads of cute new home interiors are coming to the store and they're all super affordable. Plush, soft, flowery cushions are a super simple way to add cosiness to your room.
Dealz, from €1.50
Speaking of super affordable, if you're looking to add some simple prints and frames to your room, Dealz has a fab selection for as little as €1.50. Hang this above the 'getting ready' area of your room to make a statement.
It wouldn't be a KISS list, without some candles. Nothing freshens up a room like a stunning scented candle. This one smells like summer, so it's the perfect one to add to your bedroom right now for a fresh feel.
Check out more interiors inspo from our Room Revamp series here.
Follow us on Instagram to regular updates…
View this post on Instagram
Some #Af links included