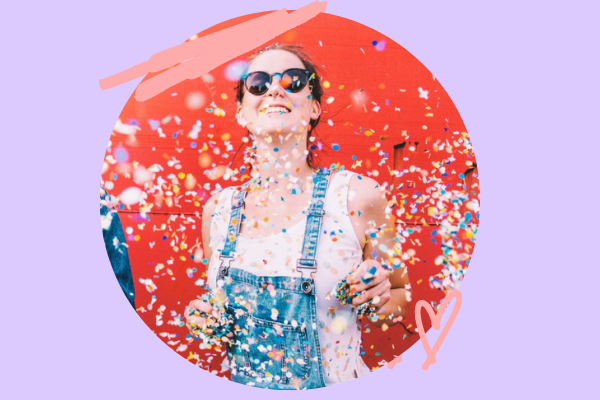 It'd be pretty hard to not be stuck in a rut right now. Every day is basically the same, going from looking at the four walls in your bedroom, going off to look at the four walls in the sitting room and back again. It's Groundhog Day. Over and over and over. So yep, it's pretty easy to get stuck in a rut, and completely understandable if you feel that way too.
We're all pretty fed up, annoyed, bored. You name it, we're all feeling it. The fact that we're staying inside with the same people all the time just intensifies everything.
So, what can you do when you feel a little stuck, and as if nothing's going your way? Here are five things you can add or fix in your lockdown routine to put you in a better mood all around.
Make a happy list
What little things make you happy? Dancing around to Lizzo? Painting your nails? Practising your kick-outs? Whatever it is that really makes you happy, write 'em down. It doesn't matter if they're big or small things, just write them down so they're all in the one spot.
That way, the next time you're annoyed, frustrated, or even bored, you can go to your list and pick something to do that makes you happy.
Gratitude goes a long way
A little like your happy list, but especially for everything you're grateful for. Start with writing down three or five things that you're grateful for each night, whether that's in a notebook or in the notes on your phone. It can be anything, from being able to chill out with your dog on your lunch break and catching up with your friend on FaceTime to enjoying your favourite dinner and fresh bedcovers.
It has a whole lot of benefits that you may not even think of. Like lowering stress levels and feeling more positive, as well as helping you to focus on what matters and getting perspective on what the important things are in your life.
Catch up on your sleep
I know as much as the next person how tempting it is to fit just one (or three or four) more episodes in before you retire to bed. But the thing is, many of us underestimate how much our sleep can affect our mood day in and day out. Making sure you get enough sleep each night will, of course, put you in a better mood the next day, but doing it consistently will keep you in a better mood all round.
If you struggle to keep to the same night routine, try adding something that makes you want to go to bed just a little earlier. Whether that's some extra cosy cushions, rereading your favourite book or having your cosiest PJs ready to go.
Get moving
You don't have to vow to run a marathon by the end of lockdown, but it's important to keep a bit of movement in your day. Because we all know, especially at this stage, that life now is a lot slower paced than it used to be, and we're just not moving around as much as usual.
Even if you don't want to, take 15 or 20 minutes each day to dance around to a playlist. Even if your dancing is terrible, I promise it'll make you feel better and you'll have done a little bit of exercise too. It's a win-win!
Change up your bedroom
If you can, it's time to change up your bedroom. Spending so much time in the one space can really cause havoc on our daily moods, so switching things up every once in a while is a nice way to refresh both your space and your mind.
Whether you can go all out and paint it a fresh colour, or just adding some new touches like even more photos or your friends and colourful prints.