With Christmas just around the corner, what's better than a new bottle of perfume as a gift for your mom, bestie or even yourself?! (Because, hey, you deserve it too!)
Here at KISS, we realise the majority of perfumes can often be very pricey and far from affordable. Luckily there are plenty of AMAZING scents out there at bargain-friendly prices and they smell just as good! Besides, your BFF wouldn't want you breaking your piggy bank on a bottle of Chanel!
Finding Your Perfect Scent
Of course, it depends on what type of scents you are into. For example, you might love fruity scents and hate musky scents or vice versa. But before you take the plunge on buying yourself the perfect scent, you need to make sure you know what type of scent you are going to be smelling in. (You don't want to be smelling like god knows what) Obviously the best way of knowing this is going on a shopping trip to the local chemist and trying out different types of fragrances. Chemists usually have free testers which are a great help especially if you're indecisive. Although be warned! You may get a slight headache from the mixture of scents. But, you'll be guaranteed to eventually find your fav! Yay!
Get Shopping! 
Once you know the scent you like or the fav scent of the person you're buying for the next big step is to go shopping! And this is where we are here to help…To save you from the endless searching, below are five fab fragrances that will have you smelling gorge depending on your scent preference!
If you haven't already purchased a bottle of heaven already, where have you been hiding?! Jenny Glow perfumes and sprays are A-mazing! With over twenty different scents to choose from, a bottle from the collection would be a perfect gift. From the floral note of peony to cedarwood, Jenny Glow has something for everyone depending on their liking! The fragrances can also be bought in loads of pharmacies or above on the link attached. You can thank us later!
Zara – Apple Juice – €9.95 
If you're a fan of a sweet juicy scent, this perfume will most defo be for you! The light fragrance is a perfect day-time scent if you're going to the school or hanging with friends. It's super cheap along with the large variety of Zara fragrances. 'Femme' by Zara is also another popular scent, which would be a super gift for your mam this Christmas! Zara fragrances can be bought in-store and every fragrance is under €20.  Happy Zara shopping!
Poppi and Pearl – White Jasmin & Mint – €14.95
Affordable and it smells divine! A great pick for your mam or sister this Christmas! White jasmine and mint has to be one of the freshest scents out there and this fragrance is only €14.95. So, you couldn't go wrong with this gift.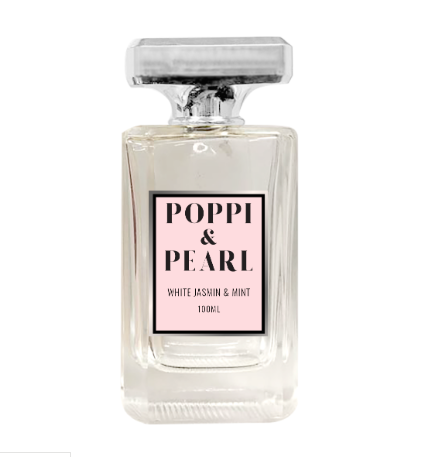 DKNY is a classic fragrance. An oldie but a goodie. The perfume is along with a huge variety of discounted fragrances in Boots right now. The blood orange scent is known as "the modern New York City fragrance". We are sold already!
Hollister – Malaia & SoCal – €18.75
Every gal loves the heavenly smell of Hollister. Once you step inside the store, the fragrance hits you (in a good way, obvs). This week only, Hollister have a major sale on all fragrances and sprays. Again, a great pressie for your mam, friend or you. Oh, and the best part is, all gift sets are under €25! Whoooopppp!!
So, xmas shopping sorted or what?!