Team KISS is back with their July favourites, and boy do we have a lot of them. From things we've been watching on TV from products, we've been putting on our faces.
Let's hope it helps you get to know us a little better, and of course, give you some inspo' if you're feeling bored – whether you're looking for a new podcast to listen to or you're not sure what to have for dinner this weekend.
Megan Roantree, Editor. 
Excited for: Never Have I Ever S2
My favourite show of 2020 is back for a second season and I'm so excited. Never Have I Ever is back on Netflix today (July 15th) and I'm so excited to see what Devi and the gang are up to next! We have a rundown of what to expect for season 2 here if you want to take a look! If you haven't seen it yet, I couldn't recommend it enough!
Obsessed with: CeraVe cleansers
It's not the first time I've included CeraVe in our monthly round ups, but I am obsessed with their products. The cleansers are brilliant and so affordable. They have different ones to suit everyone from a Hydrating Facial Cleanser to a Foaming one and they're available for as little as €13! It's far cheaper than any other cleanser I use and lasts for ages! 
Enjoying: 'Black Widow'
Black Widow is now on Disney+ and in cinemas and I was so excited to see it. Florence Pugh has joined the franchise and if you're obsessed with her as I am, you'll know why that's exciting! She's so great in the film as is David Harbour, who plays Hopper in Stranger Things. If you totally clueless as to what the movie is about, it follows Scarlett Johansson, who plays Natasha Romanoff, aka Black Widow.
She confronts the darker parts of herself when a dangerous conspiracy tied to her past arises. Pursued by a force that will stop at nothing to bring her down, Natasha must deal with her history as a spy, and the broken relationships left in her wake long before she became an Avenger. Watch it now on Disney+ or in cinemas!
Amie Edmonds, Staff Writer. 
Reading: The Midnight Library
I'm sure I've said it before, but I'm STRUGGLING with reading this year. Last year, I was going through books like there was no tomorrow, but this time round I have zero attention span.
Cue, The Midnight Library. It's that perfect blend of when you're so engrossed, but you can easily read it at night and it won't keep you up wondering what's happening next. It follows Nora, who finds herself in 'The Midnight Library', somewhere between life and death. Here, she gets to go back and fix some of her regrets, seeing what would have happened in her alternative lives. Sounds a bit mad, but it's a great read so far. 
Using: KVD Beauty Good Apple Skin Perfecting Foundation Balm
It's possible I could be the only person who enjoys this foundation? When it first arrived, we all saw how viral it went. It was then quickly debunked by beauty gurus who revealed it wasn't all that it was made out to be. I've worn this a handful of times now, and I have to say I'm pretty impressed.
To give it a fair trial, I tried it without priming my skin or setting it with primer. It was a warm, busy day that including a fairly sweaty workout, but it held up so well. Granted, it wasn't perfect by the end of the day, but it did well considering what it had been put through.
I then tried it with primer, setting it with powder and a setting spray, and the only fault I had with it was that it clung slightly to dry areas around my nose. But I'm not mad at it at all. 
Listening to: The Skim
Yep, completely biased here but Wednesday is quickly becoming my favourite day of the week thanks to The Skim. STELLAR's second podcast is run by Denise and Rebecca, and it updates you on everything you need to know in the celeb world, what's trending and what's just not. A half an hour a week just isn't enough for me, give me MORE.
What I Have On Repeat: Bo Burnham 
I feel like I'm one of the few people who only heard of Bo Burnham lately. I first saw him in the film Promising Young Woman, and had no idea of how big he was. Thanks to TikTok, I now have 'All Eyes On Me' and 'Welcome To The Internet' on repeat. When I say on repeat, I literally mean on repeat. I've been listening to them at least ten times a day for the past few days. I think I have a problem, and I genuinely don't know how to stop. 
Obsessed with: Vieve Lip Dew
I LOVE a gloss, I think they're a fab go-to, especially when I have the rest of my makeup paired down. But of course, a big disadvantage when it comes to gloss is the stickiness. Well, introducing Vieve's Lip Dew. The second this arrived I put it on by itself, then tried it over both lipliner and lipstick and, oh my. What a treat it is. It doesn't leave you with that sticky feeling, but adds the shiniest look to your lips that you'll ever see. 
Adele Miner, Staff Writer. 
Becoming: 'That' girl
Okay, I know it's a running joke and no one really wants to be friends with 'that' girl, but I kind of have become her and I feel great tbh. The last month I've really focused on getting my health and wellness in check and basically am working towards being my best version of myself.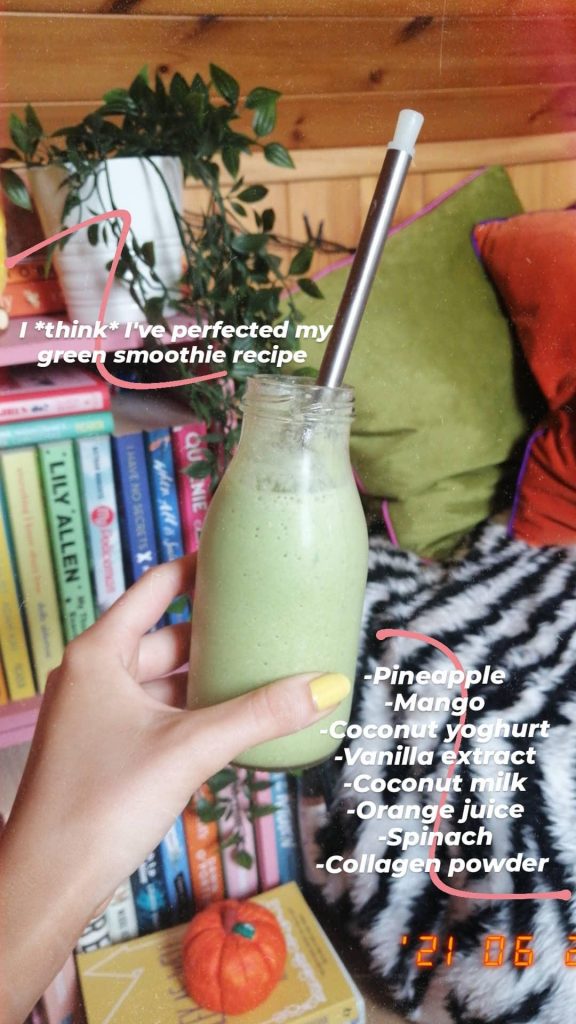 I always tend to feel more motivated during the warmer months because I'm not a winter person at all. For the last few weeks, I've been making lots of new recipes, starting the day off with a green smoothie and some stretches, making a big effort to get all of my five-a-day and exercise as often as I can. My relationship with working out has been hit and miss for most of my life, I don't enjoy extreme exercise and find that if I'm in a gym environment I begin to compare my body to others too much. So instead of joining a gym and pushing myself to extremes, I've been finding different types of exercise that I enjoy doing like skipping and pilates, and try to move my body for at least 10 minutes a day with no pressure to change my body.
Reading: 'The Diary Of Anne Frank'
This book may be part of your school curriculum, and if it is, I urge you to read it and appreciate it. I remember reading it for the first time when I was in first year and the same age as Anne when she began writing in her story, and now while I am ~older~ than that, rereading her story was a whole different experience for me.
If you're unfamiliar with the book, it tells the story of Anne and her family along with 4 other Jewish people hiding in a secret annex in Amsterdam, Holland in the 1940s during the Nazi occupation. Over two years Anne writes entries into her diary. In her entires, Anne talks about her very unique and difficult experience, but she also paints a picture of how it feels to be a teenage girl in the most accurate way. Anne's story is so important, finishing the book for the second time around I felt so sad reading about her hopes and ambitions for the future, knowing that her fate was so cruel and unjust. But, it is comforting to know that was granted her dream of becoming a famous writer, a title she was so deserving of. If you're into reading in any way I'd highly recommend you pick it up, it really is one of the most remarkable pieces of work we have in the world.
Watching: 'We Are Lady Parts' 
If you're on the hunt for a new sitcom but don't want too much of a commitment, this is for you. I watched 'We Are Lady Parts' on the Channel 4 website over a couple of nights and LOVED it. It's a comedy about an all-female, all-Muslim punk band who are on a mission to make their music and voices heard. It's a completely feel-good show and with just 6 20-minute episodes you'll fly through it in no time.
Taking Care Of: My Hair!
I'm ashamed to say that before the pandemic I did very very little to care for my hair. I would wash it with whatever shampoo and conditioner were available in the bathroom, throw a little bit of heat protectant in it afterward and call it a day.
But with extra time on my hands during various lockdowns, I took to tending to my locks a lot more than before. I've been using a Nioxin treatment plan for the last couple of months and I've noticed a big difference in the condition of my hair since. I now make a big effort to look after my hair from scalp to ends by applying treatments, oils, avoiding heat, and giving myself head massages, and using silk scrunchies and claw clips to tie it up for minimum breakage.