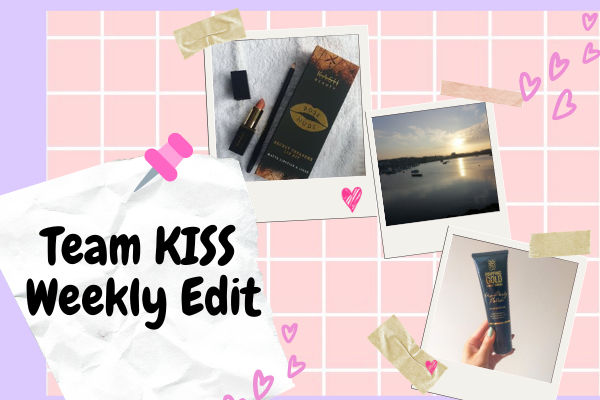 Welcome to the Team KISS list. We know that after weeks and weeks of lockdown, you're probably getting a bit bored, frustrated even, and that's totally understandable.
Team KISS is sharing some of our favourite things we've done/watched/used in the last week to give you some inspo and help you to get to know us better.
Megan Roantree, Editor 
Wearing:  Powder Foundation
I'll be honest, I never really got the point of powder foundation before. I figured it wouldn't really show up on my skin or even look like I'm wearing makeup. But this year I've rarely been doing a full face of makeup and I was looking for something a little quicker and easier. I am officially in love with Benefit's Hello Happy Velvet Powder Foundation. The name is well-suited because it's soft and velvety on the skin and blends so well.
I pop a bit of primer on and then use a big brush to apply the powder foundation. For the first time in my life, I feel like I have a shade that really matches my face and doesn't leave a mark along my jawline, instead it blends seamlessly and feels like you're barely wearing any makeup at all but in a flawless kind of way. Don't knock powder foundation gals! Get it here.
Following: Tara Stewart on Instagram
Okay, so I've been following DJ Tara Stewart for ages now, but I just feel like sharing her account with everyone because it's perfect. Instagram can be a bit full-on sometimes and sometimes I just takes following a group of like-minded people to make you feel better. Tara shares lots of sustainable fashion tips, as well as music recs, makeup looks, period/body talk and lots of other honest topics. If you read her letter to her 16-year-old-self on KISS.ie, you'll know why we love her! Tara's podcast Dirty Laundry is all about sustainable fashion too so give it a listen.
View this post on Instagram
Loving: Kash Beauty Lip Kit
ICYMI, one of our fave Irish MUAs launched her own beauty line this month. Keilidh Cashell unveiled the Secret Treasure collection as the first in her Kash Beauty range. I got my hands on the products and so far I am LOVING the Rose Nude lip kit which includes a liner and lipstick. I have pale skin and red hair, and on my lips it looks like a rich orangey-red colour which I think works great with red hair. 
Amie Edmonds, Staff Writer 
Using: Dripping Gold Pre-Party Polish Body Scrub
If there's one thing I love as much as I love tan, it's a good body scrub to pair with it. Because let's face it, your tan will only be nice if you've got every single bit of old tan off first. The new body scrub from Dripping Gold is ideal for pre tan prep. It exfoliates your skin with natural and mineral exfoliants including salicylic acid, volcanic sand, pumice and ocean-friendly bio-cellulose. It couldn't sound any more perfect – I've given it a quick trial, so I'm too excited to use it properly next time I'm taking off my tan.
Excited to: Get my hands on Kash Beauty products
I've been following Keilidh Cashell for YEARS, when it comes to makeup skills, she's just something else. So I'm so excited to get my hands on her new collection. Although I've honestly too many eyeshadow palettes and lipsticks for one gal, I feel like it's be the perfect go-to palette, and the most perfect nude lipsticks – because there's no such thing as too many nude lipsticks, right? We interviewed Keilidh about all things Kash Beauty, check it out right here. 
Watching: The Great British Bake Off 
For so long, I just didn't get the appeal of the Bake Off. I'm not into baking, and I just didn't give it a go because of that simple reason. It wasn't until the Bake Off had a bit of a revamp, I kind of fell into watching it and have been obsessed ever since. I went back and watched each season on Netflix, and waited with bated breath for the new seasons. Now that the Bake Off is back on our screens, it's all I'm looking forward to each week. If I had to sum it up in one word, it'd be WHOLESOME. It's just so lovely, but can also keep you on the edge of your sit in the weirdest way. If you're not on board yet, tune in tomorrow night and thank me later.
Adele Miner, Staff Writer 
Feeling: All the feelings 
Although we like to keep our Team KISS edit, and KISS.ie as a whole, a positive place, I think sometimes it's important for us to be open and honest about our feelings too. In month 6 of living through a pandemic, it's pretty unlikely that anyone hasn't felt some unwanted feelings at least once over the course. While the main emotions I had back in March and the early stages of lockdown were sadness and worry, now, I find myself feeling mostly frustrated with the situation. I feel frustrated that I can't visit my nana, who lives in a nursing home, I feel frustrated that I'm missing out on what could have been an exciting year in my 20s, filled with travelling, festivals, and socialising, I feel frustrated when I see other people ignoring social distancing guidelines and breaking rules (Especially here in Dublin now that we are in a semi-lockdown), and mostly, I feel frustrated not knowing how much longer this could go on for. 
But as soon as I feel these things, I remind myself that I need to be thankful for all the things that are good in my life too, which is too many to even attempt to write down. I think it's important to acknowledge that you can feel both frustrated and grateful at the same time and that both of those feelings are completely valid because there is no right or wrong way to handle a pandemic. So, if you're feeling upset about anything that has been disrupted in your life due to the current crisis, know that you're not alone and you have every right to feel those feels, that's what makes us human!
Enjoying: Time Offline 
A side effect of feeling how I explained above is spending way more time on my phone that I would usually. Recently, I've realised that I spend a silly amount of my free time scrolling on my phone, whether it's trying to keep up to date with what's going on with the country and the world, or trying to escape all of that by getting lost in Tik Toks – either way it can't be good for me. So, last weekend I made the decision to switch off my Wifi and only have people contact me through text if they really needed me and I'm so glad I did!
I found myself having so much more time to do things I enjoy like reading, painting, and spending quality time with my boyfriend and dog, and it felt so good to just be in the moment rather than pulling my phone out every ten minutes to see what other people are up to on Instagram stories. I think going forward I'm going to make more of an effort to not reach for my phone to fill a spare minute in the evenings and weekends because often those minutes become hours and come Sunday evening I have nothing to show for my time off work other than a sore thumb and headache!
Recieveing: Happy News!
Wow, I sound like a moany Minnie today, I promise I'm not really! To balance out my above rants I thought I'd share some really sweet news I received in the post last week. For the past two years, I've been sponsoring a dog at Dogs Trust named Oscar, he's a black lab mix and has been with Dogs Trust for quite a few years now, never managing to be adopted. But, this month Oscar found his forever home! I burst into tears when I read the sweet message about his journey, I'm so glad he got his happy ending!
View this post on Instagram
I now have a new sponsor dog named Pluto, who has been at the centre since he was just a pup. I hope that someday I'll receive a letter to say that he's found his forever home too. But until then I know that he's in safe hands with the staff at Dogs Trust, who give doggos all the love they need and deserve! You can check out all of the great work they do here.
Check out what else Team KISS have been obsessed with over the last few weeks, here.