RTÉ Comic Relief proved to be a huge success this weekend, with the show raising over 5 million euro for various charities.
We had a Normal People reunion, Derry Girls/Saoirse Ronan cross over and loads of other entertaining and hilarious skits and performances.
However, one slot that got some unexpected negative attention was Niall Horan's bit with The Den.
The Den if you don't remember, was a children's TV show on RTE2 which was presented by puppets who would introduce various cartoons and shows on the channel. Dustin the Turkey was a popular part of the show, with his cheeky comments.
For Comic Relief, The Den was brought back with a very special guest – Niall Horan.
Niall spoke about his joy of being on the show having wanted to be on it since he was a little boy.
ICYMI – @NiallOfficial had some childhood dreams come true, when he appeared on The Den over the weekend as part of #RTEComicRelief! pic.twitter.com/BBkYtk2Q2T

— Universal Music Irl (@UniMusicIreland) June 29, 2020
While Niall was singing Black And White, Dustin interrupted to make a joke saying: "we're cutting you off after a minute, we wanted Harry Styles!"
While anyone who knows Dustin the Turkey knows that this is the exact kind of humour we can always expect from him, some Niall fans were not happy.
What they did to Niall was extremely disrespectful and rude. He didn't have to sing for them either and interrupting him saying they wanted Harry instead is so uncalled for. Harry would not singing for your crusty asses anyways! pic.twitter.com/XIQYsdCgyu

— Niall Updates (@NiallWWUpdate) June 27, 2020
┏┓
┃┃╱╲ in this
┃╱╱╲╲ house
╱╱╭╮╲╲ we
▔▏┗┛▕▔
╱▔▔▔▔▔▔▔▔▔▔╲
Don't make fun of niall
horan's music by asking
"Where is Harry styles"
╱╱┏┳┓╭╮┏┳┓ ╲
▔▏┗┻┛┃┃┗┻┛▕▔

— Maor ||| TPWK (@louisisfivesix) June 28, 2020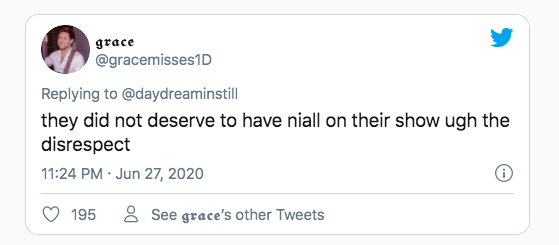 If we know Niall, and the Irish humour, we know that he was probably in on the joke and can appreciate the humour.
Might be no harm for him to clarify that though, as Stans are on a mission to cancel Dustin, The Den and RTE!