Do you find yourself always buying new jewellery – whether it's a necklace, bracelet or a new pair of earrings – yet you still don't have the right pieces to match your outfits? Or are you the opposite, are you always wearing the same pieces regardless of the outfit or event? Well, we're here to tell you that although there's nothing wrong with either approach to jewellery, that we have a middle ground that we think may be worth trying.
We're going to show you how to build a jewellery collection that will not only last but will also have you ready for every occasion. The power of jewellery to transform an outfit is something many people underestimate. A simple jean and top combo can go from daytime chic to party-ready with the addition of the right jewellery.
Staple jewellery is something worth investing in as when taken care of can last years. We don't necessarily mean forking out loads of money on precious jewels. We mean investing in affordable pieces that you will wear day to day, that you can dress up or dress down and taking care of those pieces.
The Hoop:
No jewellery collection is complete without a set of hoops. Whether it's a simple small hoop for daytime outfits or a larger hoop to dress up any evening event outfit – you can never have too many in different colours and sizes. Not quite a drop earring but also more than a simple stud, hoops are super flattering on everyone.
This pack of 8 pairs of hoop earrings from H&M are not only a variety of sizes but they can also be bought in silver and gold:
Studs:
You can never go wrong with a simple stud earring. Easy to wear and super cheap to buy, simpler studs usually come in multi-packs for a very reasonable price. They can be used to dress down an outfit, or can be the perfect touch to a dramatic makeup look. Sometimes trying to do too much can leave an outfit looking a bit unorganised – if you're ever confused on what earrings to wear pop in a pair of studs and see how they look. We bet they complete the look! Stars, moons, flowers, even your favourite foods come in little stud variety. So while they may be small and dainty, they can still give you a chance to express yourself.
Rings:
For many people, a ring is an item of jewellery they wouldn't ever bother to wear. However, a gorgeous ring can be a simple extra touch to any outfit and is a surefire way of making an everyday outfit into something a little bit more put-together. Rings also don't have to be expensive as like earrings you can buy multi-packs online and in stores. Stack them to complete any outfit and look super polished.
This 8 pack of gold rings from Boohoo is a great place to start your ring collection for less than €5!
Chains:
Trends may come and go but a simple chain necklace is one piece of jewellery that is worth the investment. Just ask Connell from Normal People! From thin to chunky there's a wide variety out there that will be a gorgeous extra to any outfit. Having a chain in your jewellery collection is perfect for when you are wearing an open neckline and want to really jazz up your outfit.
These chains from PrettyLittleThing are layered – this gives the illusion that you're wearing more than one chain and adds layers to your outfit:
More of a gold gal? Check out this one for €12. 
Chokers:
Some think of chokers as thick dark bands fastened tightly around the neck. But there are SO many different types. Chokers are perfect for when your outfit doesn't really need a long necklace or statement piece of jewellery, but you want to make a statement with your outfit. A simple chain choker can be added to any day time outfit for an elegant effect.
Bracelets:
Like rings, bracelets can be a piece of jewellery that many people overlook. While focusing on necklaces and earrings, the power of a simple bracelet is often underestimated. For the days when you're wearing a high neckline, statement earrings and you just feel like the outfit isn't complete; pop on a simple bracelet and see the outfit transform. After some time why not even try adding statement bangles and other bigger bracelets into your collection. You'll wear them again and again!
These bracelet bundles from H&M are perfect to pair with any outfit: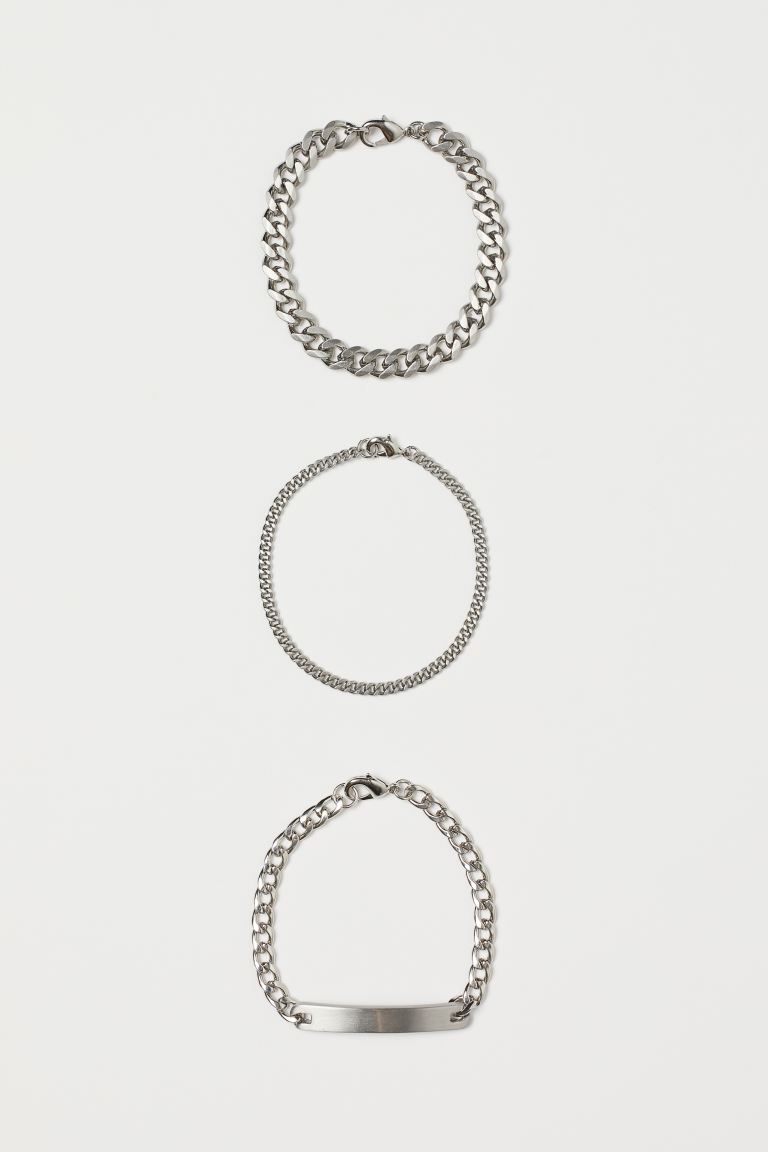 Now you've got your basics sorted, add one of two of these pieces to even a simple jeans and t-shirt lewk. They make all the difference. We promise!
Words: Nicky Anderson