If you've ever been to a gig, you'll know how much of a mess they create. From plastic cups to single-use straws, the sheer volume of discarded plastics is something that planet can't continue to sustain.
You see, single-use plastics represent today's 'throwaway' culture. We buy something, use it, then throw it away, with little to no thought on where the item actually ends up. Studies have shown that it can take up to thousands of years for plastic items to decompose, and in the meantime, they contaminate our soils and waters… sounds bad, huh?
Well, this is why the topic of minimising single-use plastics has been in the spotlight recently. Many brands have banned some single-use plastics from their businesses, and celebrities have been using their platform to raise awareness and make a difference before it's too late.
View this post on Instagram
One A-lister making a serious effort to do her part for the planet is Billie Eilish. Beginning her 'Where Do We Go? Tour' next month, Billie has decided to partner up with REVERB, a charity dedicated to helping musicians, venues and music events go eco-friendly.
When speaking about her decision in a recent interview she said:
"So, there's no plastic straws allowed, the fans are going to bring their own water bottles, there's gonna be recycle cans everywhere. (The tour) Is going to be as green as possible".
You love to hear it.
REVERB has helped other artists such as Shawn Mendes and Harry Styles to go green in the past, preventing the use of more than 3.1 million single-use water bottles since they launched.
If you fancy taking a leaf out of Billie and Harry's book, or just fancy doing your bit for the planet, then here are a few plastic-free alternatives to eradicate the waste of single-use plastics.
Tote Bags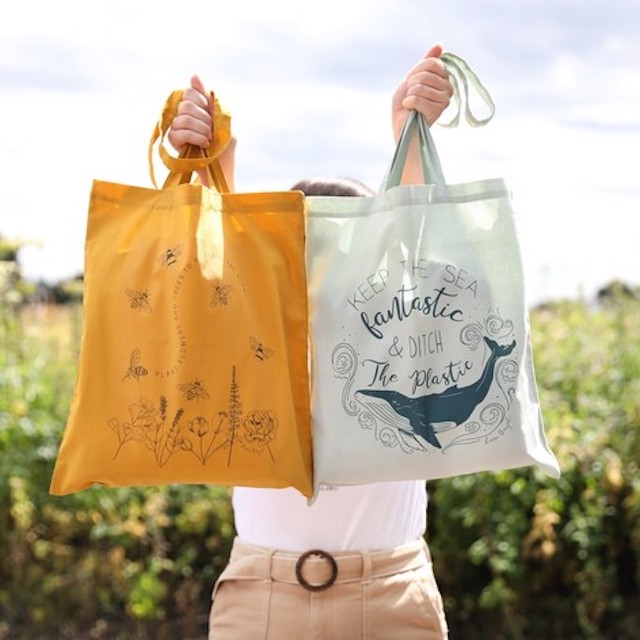 Buy here
Not only are they cute, they're also environmentally friendly. Next time you're going on a shopping trip in town grab your favourite canvas bag and use that instead of taking plastic bags from shops. Sustainable and stylish!
Keep Cup / Reusable Bottles
Buy here
You've probably heard it a million times by now, but instead of buying bottles of water on the go why not carry around a reusable one and fill it up as you go. If you're a fan of a coffee too you can bring a keep cup with you and simply ask the servers at a cafe to fill it up with your favourite order.
Metal Straws
Buy here 
Why not swap out the plastic straws you have at home with some reusable ones. You can buy them in lots of different materials such as metal and glass, meaning they will last you pretty much a lifetime, Billie would be proud.