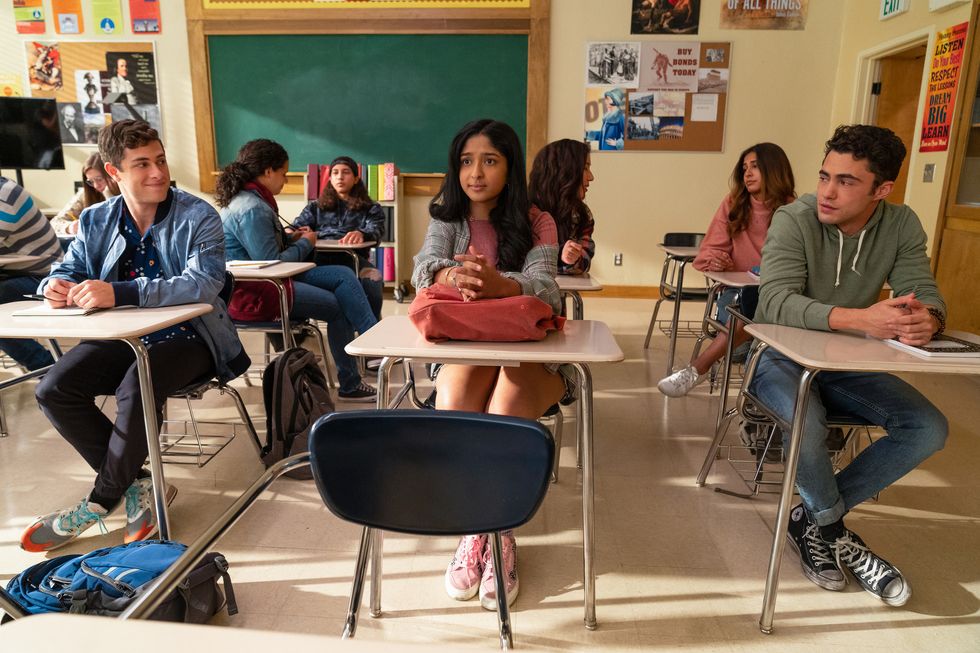 If you watched all of Never Have I Ever on Netflix, you're probably like us, watching and waiting for a series 2 announcement.
If you haven't got around to watching it yet, go do it… like right now.
The good news is the show has officially been confirmed for a second season which means we get to find out what happens with Devi, Paxton and Ben.
The show was created by Mindy Kaling, from The Mindy Project and The Office and it's full of humour and heart and it's totally relatable.
In the first season we have Devi, who is dealing with the death or her dad, while also wanting to be a normal teen girl with a boyfriend, we have Eleanor who's dealing with issues with her mam while also hoping to be an actress and Fabiola who is dealing with her sexuality.
Now we're on to season 2:
What's it going to be about? [S1 spoilers]
Though they haven't given away many details about season 2 we can guess quite a few storylines that will be covered following the final episodes of season 1.
First up, we're sure to see what will happen between Devi and Paxton and Ben in their lil' love triangle. Will she chose Ben over Paxton or will she take some time away from both to focus on her feelings?
Devi seems to be back on track with her BFFs Fabiola and Eleanor so we'll see plenty of that.
However, the question left hanging in season one was about whether Devi and her family were moving to India after Nalini feels like she's lost control of her daughter.
We'll have to tune in to find out.
Netflix has released a few photos which can give us a rough idea of how the gang are getting on.
View this post on Instagram
Will there be new characters?
There are actually several new characters in season 2, which is super exciting.
First up, we have Aneesa, a new Indian student at Sherman Oaks High, whose confidence and radiance will pose an immediate threat to Devi. She'll be played by  Aytypicalstar Megan Suri.
View this post on Instagram
Tyler Alvarez will play Malcom Stone, who according to Deadline is "a Young Hollywood type, who went to elementary school with Devi and her friends but left when he was cast in a Disney Channel show. He's recently returned to Sherman Oaks High whilst continuing his acting career."
View this post on Instagram
And last but not least, rapper and actor Common will be joining season 2.
He's be playing Dr Chris Jackson who works with Devi's mom Nalini in her practice. He's suave and cool and will be sure to but heads with the not so chill Nalini.
View this post on Instagram
When will it air? 
We don't have an exact date just yet, BUT it is set to be released in July, which is pretty soon.
We're super excited to see the gang again!