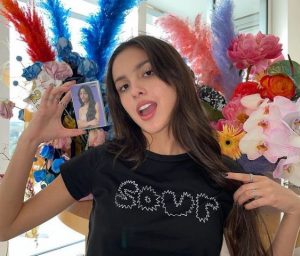 ICYMI, Olivia Rodrigo got a whopping 7 Grammy nominations this year.
The singer only released her first song, and album this year, and at 18 years old, the Grammy nods are SUPER impressive.
She got nominations in all the main categories; best album, best new artist, record of the year and song of the year, for Drivers License.
Of course, she was thrilled about it and took to Instagram to talk about how it feels.
"woke up this morning to 7 Grammy nominations. when I was younger, my family lived a few blocks from the staples center, where the Grammys took place every year. I would always walk outside the arena and look at the plaques on the ground with all the winners names in wide eyed wonder," she wrote in the caption.
"i went to the Grammy museum so many of my free weekends bc I was so fascinated by the history of the show and all of the incredible musicians that made it up. many dreams have come true for me this year but this one is probably the most meaningful.
She added: "thank you to everyone who has believed in me and supported the songs I write. and thank you to @recordingacademy for the recognition. I'm beyond humbled. truly a day I will never forget. so grateful aghhh❤️💜❤️💜"
But of course, the thing that caught our eye was the celebratory cake.
These fun, iced, sprinkled cakes have taken social media by storm lately, so it's pretty fitting that Olivia would get one to celebrate.
Her cake reads 'You Did it Bitch!" followed by a '7'.
Honestly, we would like one of these for every occasion now, finished a week of school? Cake! Studied for my Christmas exams? Cake! Cleaned my room? Cake!