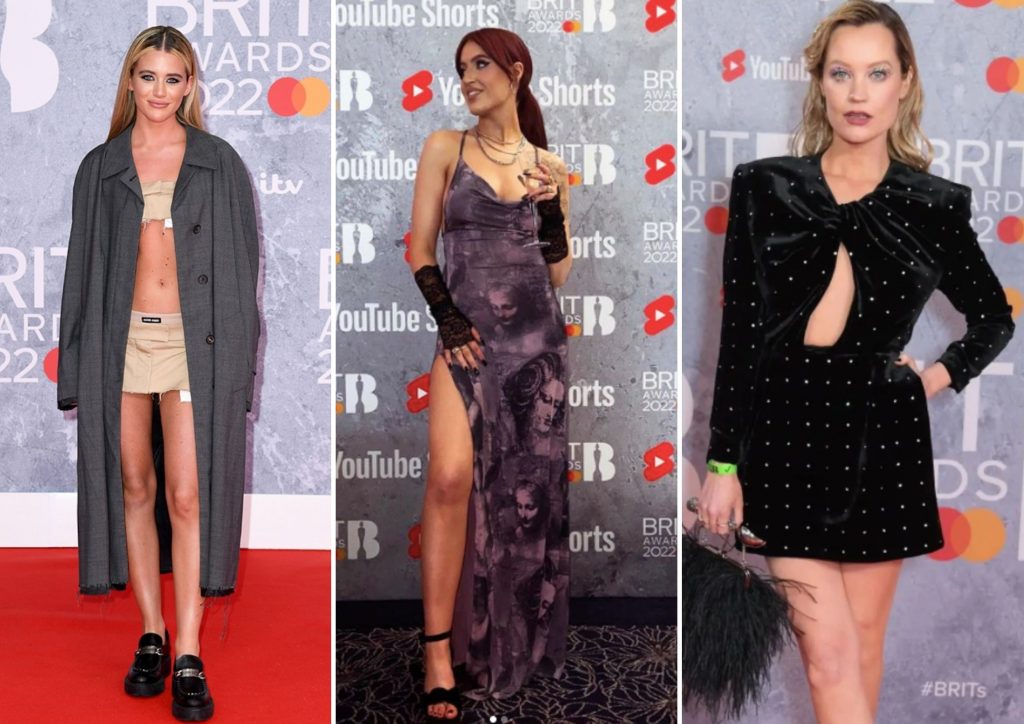 With the Brits taking place on Tuesday night, our feeds are filled with all the looks and goss from the award show.
There was a wide variety of celebs there, from 'good 4 u' singer Olivia Rodrigo to Friends actor Courtney Cox! As we know, with great celebrities, comes great styling. And our Irish girls did not miss out on that red carpet opportunity.
From Love Island host Laura Whitmore to Tik Tok and Youtube star Olivia Neill, their looks took our breath away!
Here's a breakdown of each Irish celeb's look at last nights Brit Awards.
Keilidh Cashell
Since makeup guru and Youtuber Keilidh Cashell announced she would be attending the award show, we were so excited to see what she would wear! With her style having a little more edge to it and her hair currently being dyed a stunning dark red, we could not wait to feast our eyes on what look she would pull out for the carpet.
View this post on Instagram
The 25-year-old was styled by Irish stylist Chloe Markham and was wearing an insane dark purple, floor-length dress designed by Irish designer Marky Marc.
Not only are we obsessed with the dress and its design of Renaissance style faces printed onto the fabric, but we are loving how she went all Irish for this look!
She topped off the look with some black fingerless gloves to really incorporate her personal style and some simple layering with silver chain necklaces. And considering her wardrobe malfunction earlier in the day, we are so happy to see her pulling through looking amazing!
Maura Higgins 
Former Love Island star Maura Higgins absolutely blew us away with her look last night as she rocked an asymmetrical black and white co-rd with minimal makeup and jewellery.
View this post on Instagram
While Maura has not revealed who she is wearing or who styled her, we are just in love with this look! Her slicked-back hair and simple makeup kept the focus on her outfit and we're not complaining about it!
She also showed off her amazing tan with the mini skirt and cropped one sleeve blazer top. Overall, she just killed it.
Olivia Neill 
Tik Tok queen Olivia Neill also attended the awards and as always, gave us something completely different to what we were expecting. One thing Olivia is so good at is keeping us all on our toes and with this red carpet look, she really did!
View this post on Instagram
Wearing designer Miu Miu and looking amazing, Olivia has a beige mini skirt and bandeau top two-piece. Placed over the set, she is wearing a long, oversized, grey trench coat-style blazer and black loafers.
With her hair straight and her newly-found signature eyeliner, she had one of the most unique and cute looks on the carpet that night!
Laura Whitmore 
Last but not least we have Love Islands stunning Laura Whitmore!
Laura has been rocking it the last couple of award shows so when we saw this look we couldn't keep our excitement in. From her dress to her bag, to her makeup, she did not mess around!
View this post on Instagram
Last night was all about sparkle for Laura as she wore a black velvet dress designed by Magda Butrym dotted with rhinestones. Paired with a black fluffy L'alingi bag and a glitter based eye look by Brooke Simons.
Overall, the entire fit was a win and we will be talking about this forever.
Other looks we loved:
While she may not be Irish, on the theme of sparkle we had to give an honourable mention to pop-star Olivia Rodrigo for absolutely stealing the night with her red carpet look.
Posting this Tik Tok, the 18-year-old singer showed off her incredible style with this gleaming Alexandre Vauthier dress. The mirrorball (a possible nod to Taylor Swift?) lookalike had us all with our jaws on the floor!
All we know is that we need to see Olivia in more fits like this please and thank you!
Another mention of a non-Irish gal that made her mark last night was Maya Jama. Because WOW!
View this post on Instagram
With her Cher inspired two-piece, she served with the black cut-outs and the black fur shawl to go along. And we can only sing her praises, as always.
Sadhbh O'Hara