Via Instagram
At just 22, Zendaya has been known as the queen of fashion since her Disney days. Her effortlessly chic style, especially at the recent awards has proven she is #GOALS. E! even voted her the best-dressed celeb at the Critics' Choice Awards this week in LA.
From leather look dresses, ball gowns to knee-high boots, the actress always embraces her glam outfits KISS can't help but LOVE her looks.
So, if you're just like us and want to steal Zendaya's wardrobe and get some inspo, here are some of her cutest outfits to date alongside where you can purchase the pieces – but of course at a more affordable price from some of your fave shops!
All White Everythang
This white cropped blazer would be perfect for springtime. You can dress it up or down, a must-have in your closet!
Via Instagram
White Cropped Blazer – 20.00 – Nasty Gal
Pretty In Pink
 Pull this fab pink dress off just like Zendaya. A super cute dress for a night out or any occasion if you want to look super glam!
Via Instagram 
Pink Silk Strapless Dress – 18.00 – PLT
Double Denim
 Who doesn't love a good denim shirt? Always in style and how gorge does it look with matching denim jeans?! Super easy to pull off, add a red lip or a colourful hairband to really pull together the look!
Via Instagram
Dreamy Polka Dots
Polka dots are a must-have. A statement piece suitable for any style. You can wear boots, heels or even white runners with this simple dress. And it's such a steal!
Via Instagram
Polka Dot Dress – 28.00 – Boohoo 
Red Hot
 If you really want to steal Zendaya's style, this is your go-to look. A bold red blazer paired with a red turtle neck. Talk about being a high street style queen.
Via Instagram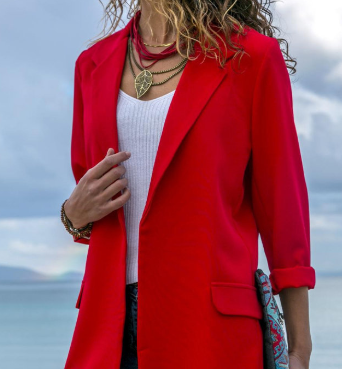 Red Long Sleeve Blazer – 22.20 – New Chic 
Red Turtle Neck Jumper – 15.00 – PLT
So if you want to look dress like Zendaya you need colour, classic shapes and plenty of attitude!
Words: Hayley Doherty