The fashion industry has seen a huge overhaul in the recent wake of COVID-19. As retail stores across the globs shut ther doors, we all turned to the online world of style to get our loungewear fashion fix.
While we're all loving chilling out in our comfies at the minute, it's likely that when things do go back to normal we'll pack our lounging co-ords away, and vow to only spend our lives in fancy skirts and cute crop-tops from now on.
But, one trend that we have been indulging in lately is an item that won't be banished to the back of our drawers once lockdown is lifted. That is, of course, the cropped cardigan trend.
View this post on Instagram
It's unlikely that the trend will be going anywhere post-crisis because it's just so damn versatile. It's the one piece that you can invest in to wear right now, that you can restyle and rewear again once we have people to meet and places to be.
The perfect way to jazz up a cosy look, you can throw on a cute cropped cardigan with a pair of joggers and fluffy socks so you can look business on top and party on the bottom during your virtual study dates. And then, when things get back to normal, you can style it up with a pair of high waisted jeans or mini skirt.
From cute pastels to tie-fronts, there's a style to suit every person and taste. Here are a few of our faves to whet your appetite.
Ditsy Floral Cardigan – Urban Outfitters – €32
Black Fine Knit Button Crop Cardigan – New Look – €10.99
Loose Knit Twist Cropped Cardigan – Boohoo – €14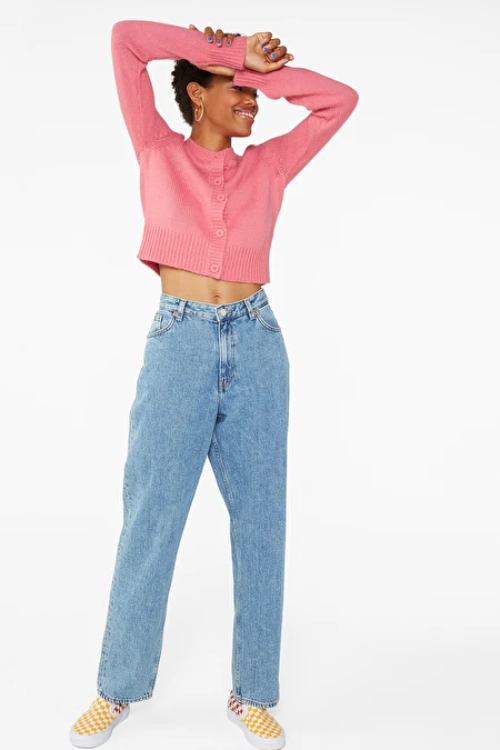 Super-Soft Cardigan – Monki – €30
Yellow Textured Lace Trim Cardigan – Topshop – €22
Noori Tie-Front Top – Urban Outfitters – €45