Whether it's to keep you warm or just to look chic, faux fur has taken over since winter. We are stepping back to our primal roots with this trend and thankfully not harming any animals in the process! This trend is definitely on the more extra side but there are so many ways to incorporate faux fur into your wardrobe and your style without feeling like you're overdoing it (not that you can).
If you are the kind of person who loves to go all out with your style and showcase your love for fashion to the world, the more intense side of this trend is for you, especially when it comes to the accessories end of things. With big faux fur hats or boots, you can elevate an outfit and look runway ready all while staying warm and cosy, it's the perfect cold-weather hack!
Kendall Jenner took a shot at this trend on her Insta last week but slightly missed the warm and cosy memo. Still rocking it, Kendall wore a black bikini paired with sleek sunglasses and giant faux fur boots while standing in the snow. We love the dedication to the perfect Insta pic Kendall, honestly.
View this post on Instagram
As much as we do love the faux fur snow boots, bikini combo, it might not be the most practical outfit for everyday life. So here are some of our favourite faux fur pieces at the moment! And whether you're ready to go headfirst into the trend or not, we know we have something you'll love.
Sage Fluffy Phone Case – Pretty Little Thing €12
To slowly mix in a little bit of fur into your style, starting small like a phone case is perfect! It draws the right amount of attention towards your knowledge on the trend, looks super cute and can you imagine how soft it would be? We are obsessed!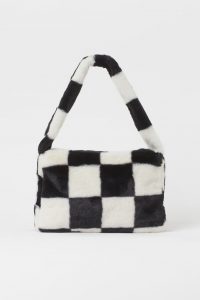 Black and White Checkerboard Shoulder Bag – HM €14.99
This little checkerboard piece is the perfect bag to add some fun texture to a monochrome fit! The black and white make the bag easy to style so it can be quite a transitional item if you're still not too sure about committing to this trend. It leaves a lot of options open and the style and colour combo makes it something that will always be in. If you want to experiment too, mixing the bag with other textures in your outfit could really make it stand out!
Green Faux Fur Bucket Hat – ASOS €15.35
This hat will keep your ears warm but don't worry, you'll still be able to hear everyone talk about how cute it is! If you are ready to fully transition into loving the faux fur trend, then you simply have to buy this. It's the perfect fluffy hat and with this funky texture, you'll stand out and stay comfy. It's like a hug for your head! Styling it is the real fun, as you can play around with colour combos to compliment the headpiece or go with an all-black fit to have the hat pop. It can be dressed up or down, the great thing about a piece like this is that it's so flexible to your own personal style.
Black Faux Fur Boots – Bershka €59.99
If you're feeling a little like Kendall, these are the boots you just need! They are slightly more neutral than Kendalls because they're black but will still add some WOW to any outfit. Pairing these statement boots with a simple mini dress (or bikini if you want the Jenner look) would be a great way to keep it chic but still have everyone thinking god, those are some seriously cool shoes. Adding colourful over the knee socks could bring your fit to the next level and have you feeling as cool as Kendall.
Lilac Vinyl Faux Fur Trimmed Trench Coat – ASOS €99.99
To really amp up your faux fur wardrobe, a fur coat is always a must! Whether you want full fur or fur-trimmed, either way, you will always look like a baddie. This purple faux fur-trimmed gives the perfect bad b energy with its bold colour and mixed textures. The fur gives it that elegant and soft look but then the vinyl completely elevates it. When you wear this coat, people will know not to mess with you or your fashion sense!
There are a couple of Irish gals who have been loving this trend too!
Charleen Murphy has been flooding her Insta feed with all the faux fur inspo you could possibly need and we are absolutely loving it!
View this post on Instagram
With Charleen absolutely killing it in this faux fur-trimmed brown coat, we just can't say no to it! Heading over to her Insta you will find so much more fluffy inspo and trust me, you'll be as in love as I am!
Tik Tok gal Mollerina has also been pulling through with the fur trim inspo when she posted a haul with this stunning jacket from Urban Outfitters that is making all of our Y2K mood boards a reality.
View this post on Instagram
No matter how you choose to style these furry trends, you are guaranteed to look cute and cosy!
Check out more trending outfit inspo here!
Sadhbh O'Hara