Although we're preparing ourselves to bid farewell to summer, we've still got atleast another few weeks of mild temperatures to get some more wear out of our summer clothes.
While, shorts, t-shirts, and sandals are always a go-to when it comes to summer dressing, this year has seen the rise of one fashion item that we never thought we would be clambering to get our hands on, but somehow, it works. We're of course talking about the tennis skirt.
View this post on Instagram
Quickly replacing our stay at home joggers, the tennis skirt has been seen everywhere from our favorite influencers to Tik Tokers, and it doesn't look like it's going anywhere just yet. Athleisure is absolutely having a moment, and so you will see the tennis skirt most often styled with a sports bra, oversized sweatshirt, logo socks, and chunky trainers – because why bother doing anything by half. You could also go reverse though, and style it with a pair of cowboy boots and a bandana, as seen above, there literally are no rules.
Frankly, going for a walk in the park has never looked so good. One of the best things about the trend is that it doesn't have to break the bank, while the high-street has plenty of styles available, equally online vintage outlets and charity shops have plenty of tennis skirts to go round too, meaning that the trend is not only stylish but sustainable too.
View this post on Instagram
If you're now convinced that you need your very own tennis skirt in your life – great! Keep scrolling for some super cute skirts you can add to your wardrobe.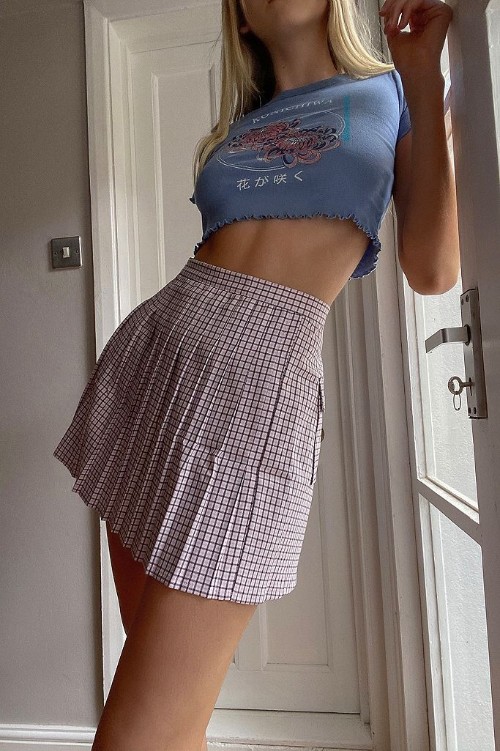 Ellesse Trifono Tennis Skirt – €35
Pleated skirt – €17.99
Pleated Mini Skirt – €19.99