The makeup industry is having a serious moment lately, and everywhere we turn we see new products, influencers promoting brands, collaborations and the ever-changing must-have of the moment. It can all be more than a little scary.
When it comes to wearing makeup at first, it can be a little overwhelming and hard to know what you do and don't need. We've narrowed down the essentials that every makeup kit needs to begin with…
Brushes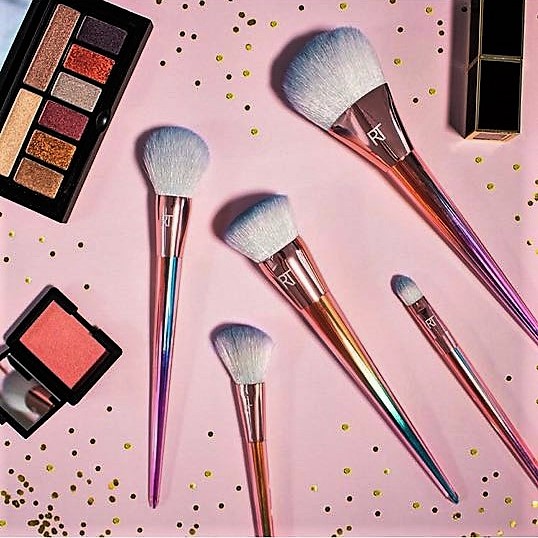 To begin with, it's important to have a good set of brushes. All the makeup in the world is no good at all to you if you have unsuitable tools. While some people (even talented MUA's) like to use their hands for applying foundation or concealer, others can't live without their brush kit.
You don't need to spend huge money on them, but it is important to have the correct brush for the correct product.
Leave off the impossibly finicky fan brushes and micro-bristle-whatevers, and concentrate on the necessities – foundation, concealer, powders (blush, bronzer, highlighter) and eyeshadow.
There are some gorge sets out there that contain all you need to begin with which will not break the bank like these ones from Real Techniques.
(Oh! But don't forget to wash your brushes! Warm water and soap are best.)
Primer
Next off, you need to perfect your base. After your skincare routine, begin with applying your primer. This helps makeup to go on evenly and last even longer.
While there is a primer available for every kind of skin type, to begin with, something simple like Wet N' Wild Photo Focus Face Primer Matte will give your makeup the staying power it needs while giving your skin a matte finish.
Don't get too caught up with buying brushes for every single product in your kit either. Some products (like primer) are perfect to apply with your fingers, with the added benefit of getting the blood circulating around before you apply your makeup. Bonus = less brushes to wash – yay!
Foundation
If you've never worn makeup before, there is really no need to wear full foundation all of a sudden. If fact, you probably don't need it at all. Even starting with a tinted moisturiser or BB Cream is great.
But if you're looking to explore the area foundation here's where to start.
There is (unfortunately) no one perfect foundation that could be recommended to suit everyone – so welcome to the lifelong hunt for the perfect foundation!
There are some good places to start though, such as No7 colour match foundation for the perfect match to your natural skin colour. Appointments can be made for this service at Boots here (free of charge). Other great affordable brands include Essence, Catrice, Rimmel and Maybelline.
Concealer
Concealers are an additional product to some people and an essential for others – but perhaps to see where you stand with concealer start off light and apply (if needed) under eyes, on any blemishes and any other places that you feel you want a little more coverage.
Sometimes all you need is a little concealer to brighten your face and you can skip the foundation altogether.
A couple of nice, light concealers are include NYX Professional Makeup HD Studio Photogenic Concealer and the Natural Collection Liquid Concealer.
Blush, Bronze & Highlight
Blushers, bronzers and highlighters are key for giving your face some dimension as well as giving you a warm, glowy appearance. Adding bronzer to the hollows of your cheeks, highlight to your cheekbones and blusher to the apples of your cheeks will make a big difference and can look super-skilled if you do it right.
Do not overdo it though, sometimes in certain lighting, it can look like you haven't got enough on, but less is definitely more. Try taking a snap of yourself with the flash on to see how it will show up in brighter lighting.
Every day there is a new trio of these products popping up, so starting with something reliable and basic (that won't break the bank!) is best. A lovely one to begin with is the Highlight, Bronze and Blush trio from Collection at Boots.
Mascara & Eyeshadow
Mascara and eyeshadows are important for your kit as they will allow you to really make a look your own and express your style more than the products you use on your face. There are no rules with makeup (which makes it so fun), so you can completely go your own way with these.
Bright colours, glitters, nudes – there are limitless possibilities for eye makeup looks. While this can all be a bit much to take in at the beginning, a good idea would be starting with a palette that has a good variety of colours with maybe a shimmer or two to allow you to try out different looks. Try an NYX palette to start off with (they have gorgeous colour options) and a Wet n' Wild, Catrice, or Rimmel mascaras.
Remember – You don't have to wear all of it at once, or any of it at all, sometimes trying a bit of mascara and some concealer, or some highlighter on your cheeks can be just enough to give you a little lift.
-Practice makes perfect and every time you get frustrated with your makeup just remember that everyone is just trying things out and finding what works for them!
-While all these products are just basic starting off points, using cheaper products is a great way of testing things out and finding your own look and finding out what works for you.
Your makeup bag doesn't have to be the most expensive thing you own – but in time you can build onto this basic makeup kit with anything else you find and love.
Shop around in shops like Boots, Penney's and local pharmacies for products too – you don't have to go too far to find amazing makeup.
So, get the cutest makeup bag you can find and fill it with these basics, get yourself a big mirror, a Youtube tutorial and get practising! We promise that you will be the next best MUA before you know it.
If you want to build up your bag with some amazing new products follow us on Instagram, where we regularly do amazing beauty comps.
Words: Kaia Purcell