Whether you think Emily In Paris is totally silly, or it's your fave new show, you can't deny that the fashion and beauty in the Netflix series on point.
Emily's outfits are super cute and Pinterest-worthy for sure, but the beauty is pretty iconic too.
From a strong berry lip to flawless foundation, and of course, those eyebrows, Emily has us wanting to switch up our beauty routine ASAP.
Lily Collins, who plays Emily, is known for her strong, bold brow, and if you'd love to achieve the same look, well, you're in luck.
Speaking to Glamour, Lily revealed that she personally uses an affordable product to get her brows looking so good.
"I use Glossier's brow gel called Brow Boy in clear, which keeps 'em in place," she said.
When it comes to the makeup artist on Emily In Paris, she uses some other products, which are pretty similar tbf.
Aurelie Payen, explains that the look is partly down to Lily's own features:  "Lily's eyebrows are prominent and unique. It's her signature feature."
She told Town and County Mag: "Everyday I used eyebrow gel from Anastasia Beverly Hills, which helped me fix Lily's brows all day long. Then I used a concealer from Laura Mercier lighter than her natural skin tone to highlight the shape."
Once again, we're in luck, because ABH eyebrow gel is pretty affordable.
You can get it in places like Brown Thomas for less than a tenner.
The concealer is a bit more on the pricey side, but the key here is to use a strong concealer in a lighter shade, so it doesn't have to be Laura Mercier specifically.
"The eyebrows play an important role in the harmony of the face. If they are well-plucked according to the shape of your eyes, they can enlarge your gaze," Aurelie added.
If your brows aren't naturally dark or thick enough, the MUA suggests a tinted brow gel instead. There are so many on the market from affordable brands like Catrice and NYX. Or if you're feeling fancy, Chazza Tils is Aurelie's #1 choice.
"I would use a tinted brow gel for example, the legendary brows in Super Model Brow by Charlotte Tilbury, to recreate [Lily's look]. Using this gel, I redefine the eyebrow hair by hair for a more natural finish."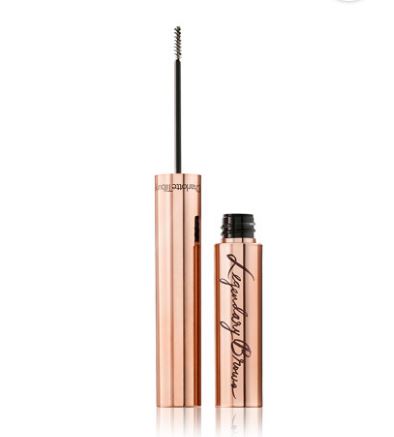 So there you have it. Say Bonjour to fabulous eyebrows!
READ MORE: 
How Well Do You Know Emily In Paris?
You'll Never Guess The Real Ages Of The 'Emily In Paris' Cast
PSA: You've Probably Already Tried And Tested Gigi Hadid's Fave Foundation (And It's Only €12)
Some #aff links have been included in this post.