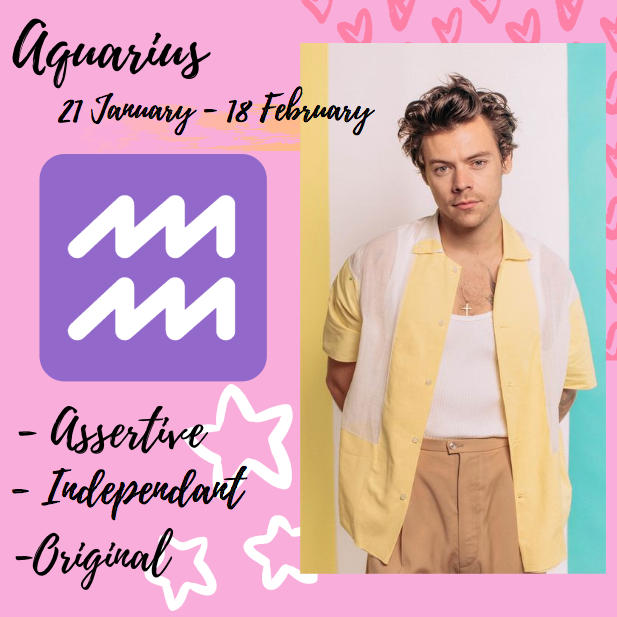 It's been a hot minute since we checked in on our star signs. Whether you treat it as holy grail or take it with a pinch of salt, having a little idea of what the month might have in store for you is interesting to know regardless if you take heed to it or not.
We have to be honest, we're just glad to wave goodbye to January, it was a long 1235 days BUT we made it, and have finally waved goodbye. We can just smell the dawn of spring, and we're ready to embrace the changes a brand new season will bring.
Here's what you might expect from this month:
Aquarius | 21 January – 18 February 
View this post on Instagram
Celebrity Birthday: Harry Styles (1st February 1994)
Gemstone: Amethyst
Element: Air
Lucky Numbers: 11, 20, 56, 29
Most Compatible With: Gemini
Least Compatible With: Scorpio
Good news: you made it through January! It was a tough month for you, but you came out the other end with a smile on your face and a spring in your step. You're ready for whatever this month – and year, has to throw at you, and it would take a lot to bring you down. Your both assertive AND original and if those two things combined aren't superpowers, then we're not sure what is. Don't sweat the small stuff and enjoy what the rest of the month has in store for you – you deserve it.
Pisces | 19 February – 20 March
If you're feeling stuck in a rut you can easily change that. It's still not too late to put those New year resolutions into action, draw up a plan and get conquering.
Aries | 21 March – 20 April
You're feeling run down, we feel ya! The January blues have taken its toll on you. It's time to treat yourself to some R&R and you'll be right as rain in no time.
Taurus | 21 April – 21 May
Something special is in store for you this month. You feel a little left in the background lately, watching everyone around you thrive, but don't worry, your time is coming.
Gemini | 22 May – 21 June
Decisions, decisions. You have a lot going on this month and some big choices to make. Your indecisive nature makes settling on a decision feel impossible, but just breathe, you've got this!
Cancer | 22 June – 22 July
You're feeling fed up with a situation lately, and rightly so tbh. You need to find your inner lion and let those around you know what's bothering you, the problem will never be resolved if you bottle it all up.
Leo | 23 July – 22 August
Your confidence is soaring in 2020. While it's great that you're feeling on top of the world, remember to check in with those around you, someone close to you might be in need of a caring ear.
Virgo | 23 August – 22 September
You're sweet and faithful but don't allow anyone to take advantage of that. While you're always willing to give to others, remember that sometimes it's okay to put yourself first.
Libra | 23 September – 22 October
You've been grafting since the New Year has rolled around and you're about to see the results. Maybe it's exams, or maybe it's a personal relationship, but things are about to work out quite nicely for you!
Scorpio | 23 October – 21 November
Stop sweating the small stuff! You're a worrier by nature, but you're also a warrior, so take that strong spirit and put it to good use.
Sagittarius | 22 November – 21 December
Things are finally coming to a halt for you, it's been a mad few months and it's about time you chose to unwind. Embrace the calm and treat yourself to some normality.
Capricorn | 22 December – 20 January
Someone is testing your patience. Remember to keep your cool and handle the situation to the best of your ability, this soon shall pass.